GERMANY - HUMAN RIGHTS BEFORE MINING LAW "MENSCHENRECHT VON BERGRECHT"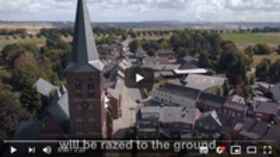 Barbara, from Keyenberg, is still facing the reality of being thrown out of her home for coal. But she's not giving up that easily – she'll take the problem to court if she has to.
We – Andrea, Barbara, Britta, Michael and our neighbours from the villagers threatened by the Garzweiler II mine – are fighting to keep our homes. Our campaign is called "Menschenrecht vor Bergrecht" (Human rights before mining rights). We are standing strong to save our villages from destruction and will go all the way to court if we have to.
More info: www.menschenrecht-vor-bergrecht.de
Author(s) of the work: Felix von der Osten / Kayla Kauffman
Published: Tuesday 10 December 2019
Principal themes: Evictions
The country or countries of provenance: Germany
Key words, tags: International Tribunal on Evictions
Social action methodology used by the protagonists: -
Comments